If your Amazon gift card code is scratched off, contact Amazon customer care at (888) 280-4331. You will need the card's 16-or 30-digit serial number to prove ownership of the gift card, and they will work on replacing the scratched-off gift card for you.
You can also check the amazon gift card support page for more help. You will also be asked to provide the order number, buyer's, and recipient's names. In other cases, you might also be asked to provide the email or physical address to which the gift card was sent. You can also contact the shop retailer where you bought your card and present your receipt.
Redeeming your scratched-off gift card can be so much easier than you think. This article will review some helpful tips, so continue reading.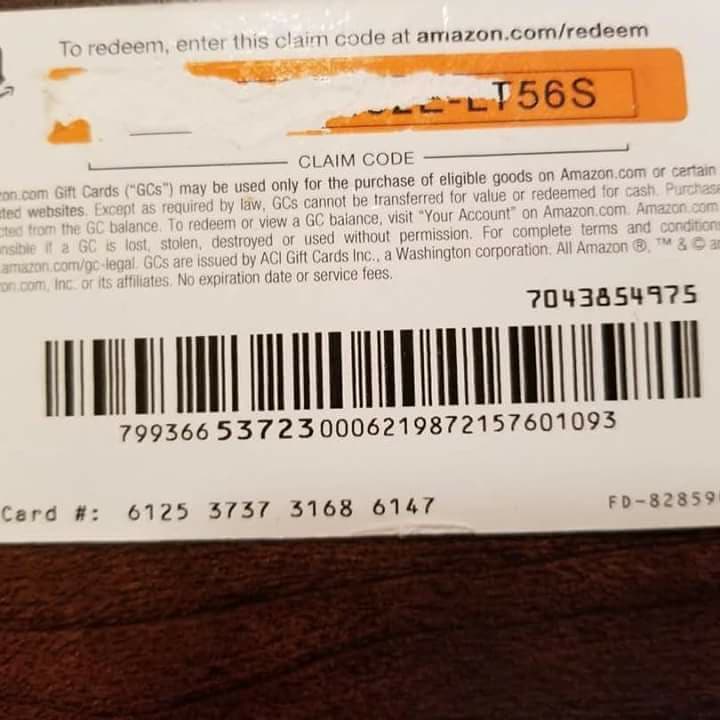 How To Redeem Scratched Off Amazon Gift Card
You can take comfort in the fact that several solutions are available for people with an Amazon gift card with an unreadable claim code. We will be exploring these options in this section.
1. Contact Customer Support
Call Amazon.com and provide them with the 16-digit number of your card as the first step. Be careful not to confuse your 16-digit card number with your claim number for an Amazon gift card.
The claim number for your Amazon card is printed on the back of your card. You might need to remove the coating on your Amazon gift card's back to read your Amazon claim code.
2. Visit Amazon's Website
You can also find a helpful solution in the circumstances like this on the official Amazon website. Simply log in to the Amazon website, navigate to Accounts and Lists, and select "Your Account" from the menu. Select the "Gift Cards" box and proceed as directed.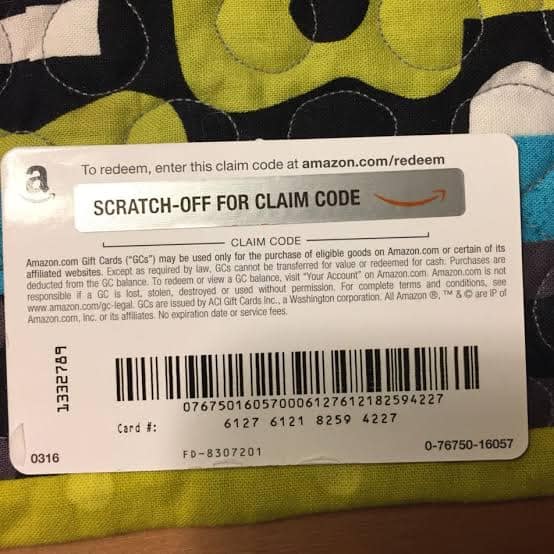 If you're looking for methods to redeem your scratched-off Amazon gift card, bar codes are another choice. Gift cards without bar codes cannot be redeemed with this method. However, if your gift card has one, it makes things much more straightforward.
Download the Amazon app on your Android or iPhone, then scan the barcode with the device to decipher your unreadable Amazon gift card. Please refrain from using a QR reader app since this is not a QR code.
4. Visit the Retailer
If the claim code on your Amazon gift card is unreadable, you should return it if you purchased it at a physical store. Naturally, having the card transaction receipt is preferred. Ask for help by explaining your circumstance to the cashier or the store's customer care department.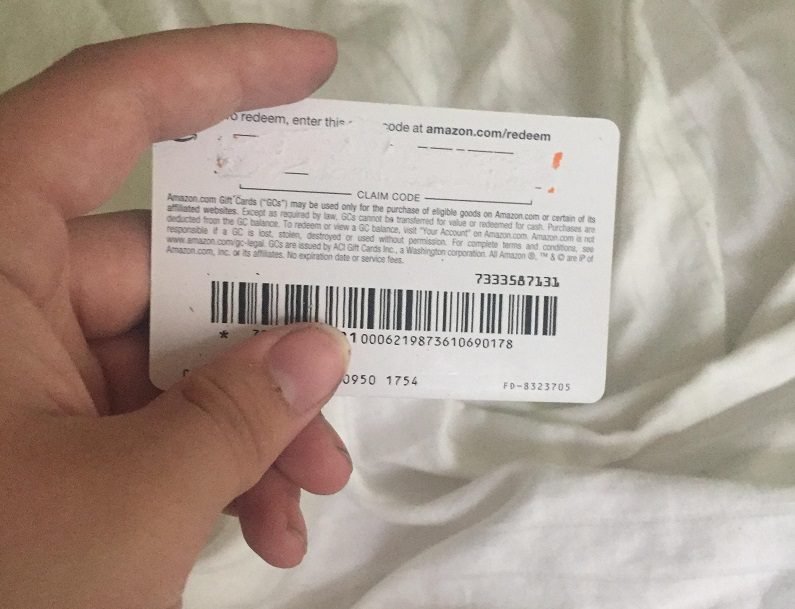 Why Is Your Amazon Gift Card Now Working Online?
This section will explore why your Amazon gift card might not work online. Listed below are actions that will cause your gift card to malfunction or not work online if taken.
1. Unauthorized Exchange
Give or receive a gift card for purchasing items or services, not from Amazon.com. It could be a scam if an organization or person not affiliated with Amazon requests payment with gift cards from Amazon.com or other retailers.
2. Fraudulent Acquisition Of Gift Cards
You should not redeem a gift card to an account if you are not the intended recipient. For instance, you are the intended recipient if the gift card was given to you. You would not be the intended recipient if you obtained a gift card by tricking the buyer into buying it or giving it to you.
3. Purchasing Of Prohibited Goods
Using a gift card to buy some non-eligible products and services, including rare coins or other gift cards, might cause your gift card to malfunction. We have the right to alter the products and services that can be bought with our Amazon.com Gift Cards. To pay for an order containing ineligible items, You must provide a credit card, debit card, or another legitimate payment method.
4. Insufficient Balance
When trying to make a purchase online, you must be aware of how much you have left on your card. There are various methods to keep track of your gift card account balance. We will be highlighting some of these methods in this article.
You should redeem your card as soon as possible to prevent complications. If the reason why you cannot save your gift card online is that it is too old or expired. Do well to check out the expiration date of your card before use.
6. Disparity in Account holder Information
You will experience errors if the address you provide when making a transaction over the phone or online differs from the one on record with the company that issues the gift card. Customers should check the cardholder agreement on Amazon or call the customer service number listed on their card for more information or assistance.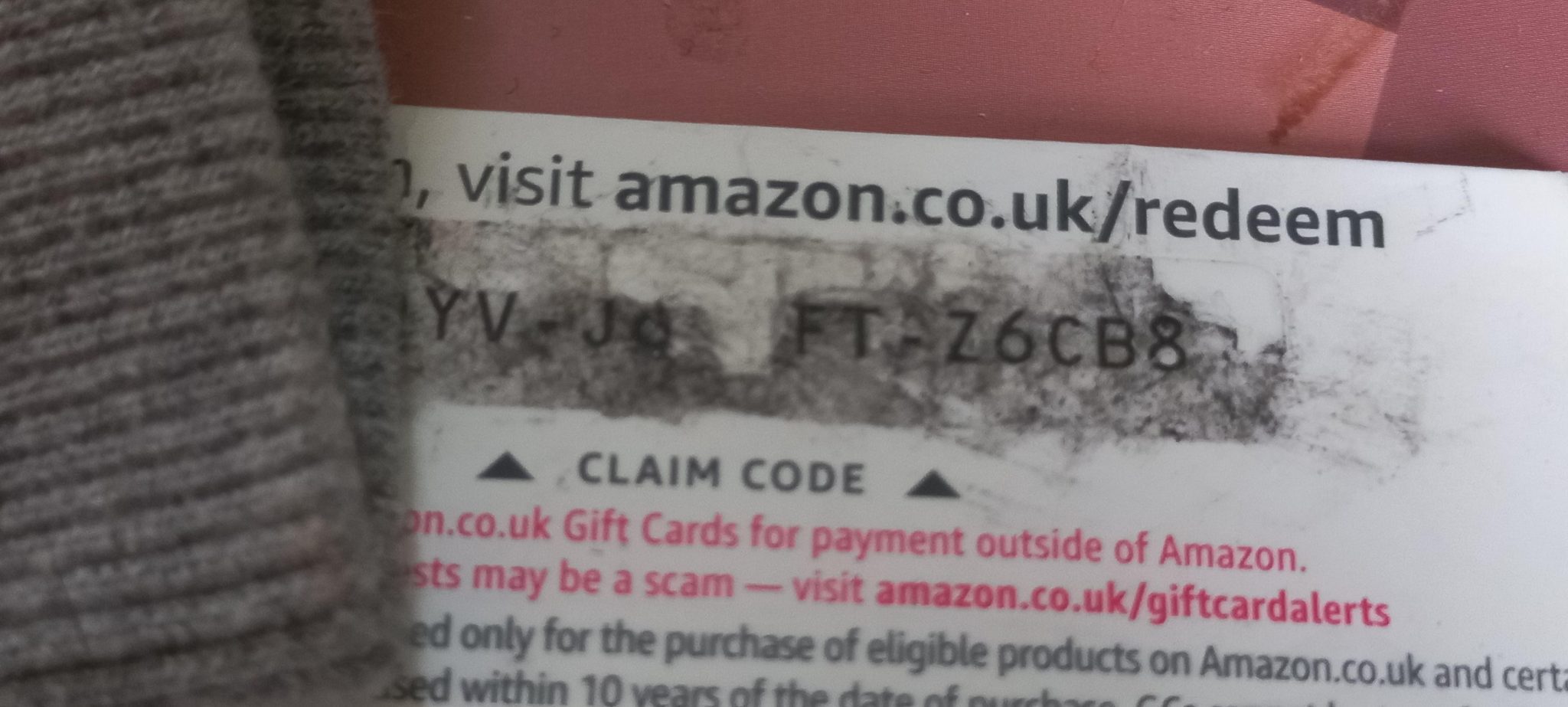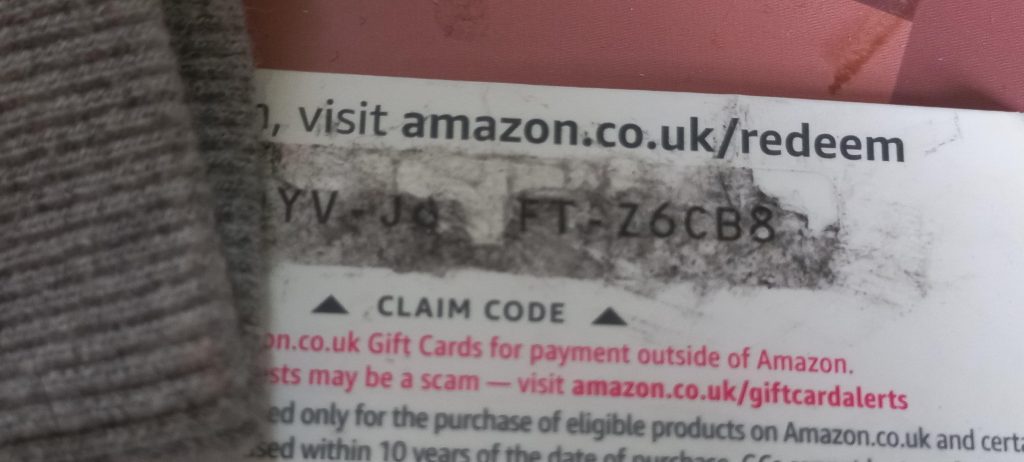 How to Activate an Amazon Gift Card Online
There are various methods for redeeming your Amazon gift card. In this section, we will look at some of them.
How to use an app to redeem a gift card from Amazon
Both the iPhone and Android apps are compatible with these steps.
Open the Amazon app and select Account by tapping the three vertical lines in the bottom-right corner.
Choose Manage gift card balance under Payments in the Payments section of the page.
The system will bring up the page where you may use a gift card or add funds to an existing one.
Enter your gift card code, confirm the details and continue.
You may also choose the Your Auto-Reload Setting option and establish a timetable if you wish to keep your gift card loaded with funds, so it never expires. Although there isn't an advantage to doing this, it is an option you might do well to exploit.
How To Redeem Your Gift Card On The Amazon Website
Visit the Amazon website, log in, or register for a new account.
Add the item you want to buy to your shopping cart after selecting.
Head to the payment screen when you've finished adding everything you require.
Enter the digital redeem code you were sent via email from us and select "Gift Card" as the payment method.
Please select a different payment option to cover the amount of the order's total that is higher than the gift card's value.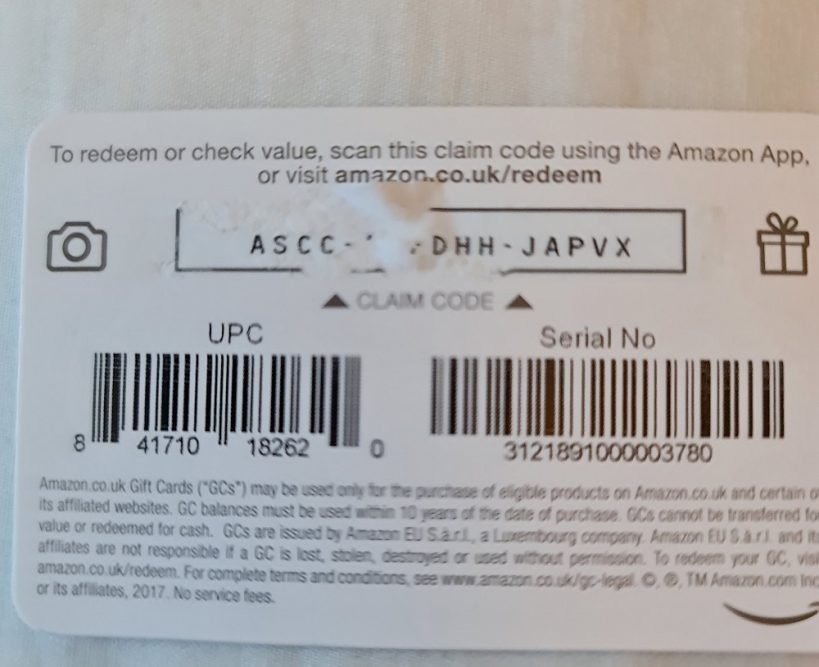 How Do You Check Your Amazon Gift Card Without Peeling Off The Code?
1. Check Amazon's menu
Finding the balance on your gift card is as easy as using this procedure. Take these actions:
On your gadget, Register with your account.
Choose "Your Account" from the menu.
In the "Gift Cards" box, click.
The balance and your gift card usage will instantly be visible to you.
2. Use the search bar on Amazon.
By following these easy steps, you may also check the balance on your Amazon gift card:
Log into your Amazon account on your device.
Find the search box on the home page.
You should type "gift card balance."
Click "Check Gift Card Balance" above the gift card offerings.
You can view your current balance on the following screen.
3. Using the search on the home page
By following these instructions, you can check the balance on your Amazon gift card using a different method.
On your gadget, Register with your account.
Using the search box, select "gift cards."
You can see your gift card balance below the titles. You can quickly check an Amazon gift card's balance using one method without scratching the gift card.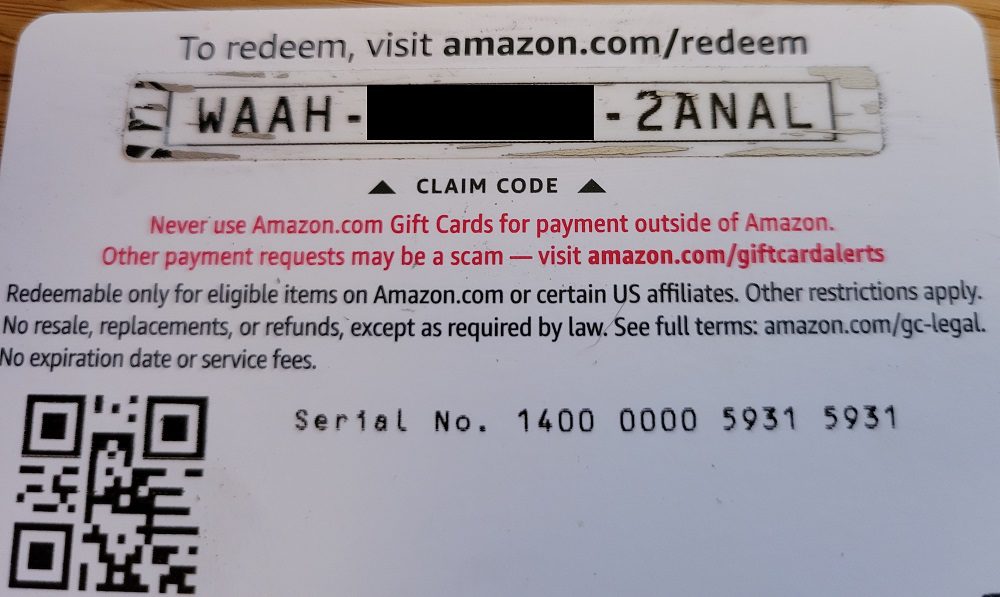 Can I Redeem an Amazon Gift Card by Scanning the Barcode?
When using your mobile device to redeem your Amazon gift card, you have two options for adding your card to your account. Your card can either be added manually or by scanning it.
Use your phone's camera to scan your gift card by selecting "Scan Your Claim Code" and pointing it at your phone. You can manually redeem your card by tapping the "Enter Claim Code" field and entering the claim code for your card. Finally, select "Apply to Your Balance." The value of your entered gift card will be added to your account immediately by Amazon.
How to Redeem an Amazon Gift Card With a Serial Number?
Visit Amazon's official website.
Input the Amazon Gift Card serial number and the desired load amount (between $10 and $2,000).
The gift card's back has the serial number. It starts with "17," has a length of 19 digits, and consists only of numbers.
The card becomes activated as soon as your payment is completed.
When your card is ready for use, you'll get two emails: one confirming your order and the other your card's activation.
What Happens If An Amazon Gift Card Is Not Redeemed?
Gift cards from Amazon have no time limit and can be used whenever. Your Amazon gift card is redeemable whenever you want. You can use the gift card to buy anything from the Amazon website or app once activated and added to your account balance.
Even though Amazon gift cards never expire, it's a good idea to activate your gift card as soon as you receive it to reduce the likelihood of losing or misplacing it. You are not required to use it immediately after redeeming it. The money will remain in the gift card balance, and you may always use it at checkout.
Can You See Who Redeemed an Amazon Gift Card?
No, there is no way to determine who used an Amazon gift card. Out of respect for its customers' privacy, Amazon does not provide information about specific orders unless you were the one who placed them.
You won't be able to determine who used the gift card, what they bought, or when they made the purchase unless you have access to the card and order details. Such information is regarded as private and unique to the buyer by Amazon. Even while it could be annoying, the fact that you cannot determine who used an Amazon gift card is actually for your protection.
Why Is My Amazon Gift Card Taking So Long?
Delivery of emails could occasionally be delayed by 1-2 hours due to payment security concerns. When a new payment method is utilized, a massive order with a high dollar amount or quantity is placed. Delivery may take up to 24 hours in unusual situations.
Before the order is electronically delivered, customers can cancel it. You can pick a delivery date up to a year before the purchase date; you can optionally select a delivery date if you like. You'll be charged one to two days before the delivery date you choose for your e-mail gift card if you choose a future one. At the time of delivery, we'll email you a reminder.
Can I Undo an Amazon Gift Card Redeem?
You cannot recover a gift card's value once it has been added to your Amazon account, but you can take the card itself out of circulation. Unfortunately, after use, Amazon-branded gift cards are not accepted from your Amazon.com account.
There might be a solution if you used your gift card to purchase the incorrect Amazon account. You must contact their customer support to reverse it and move it to another account. You may need to provide your receipt along with your complaint.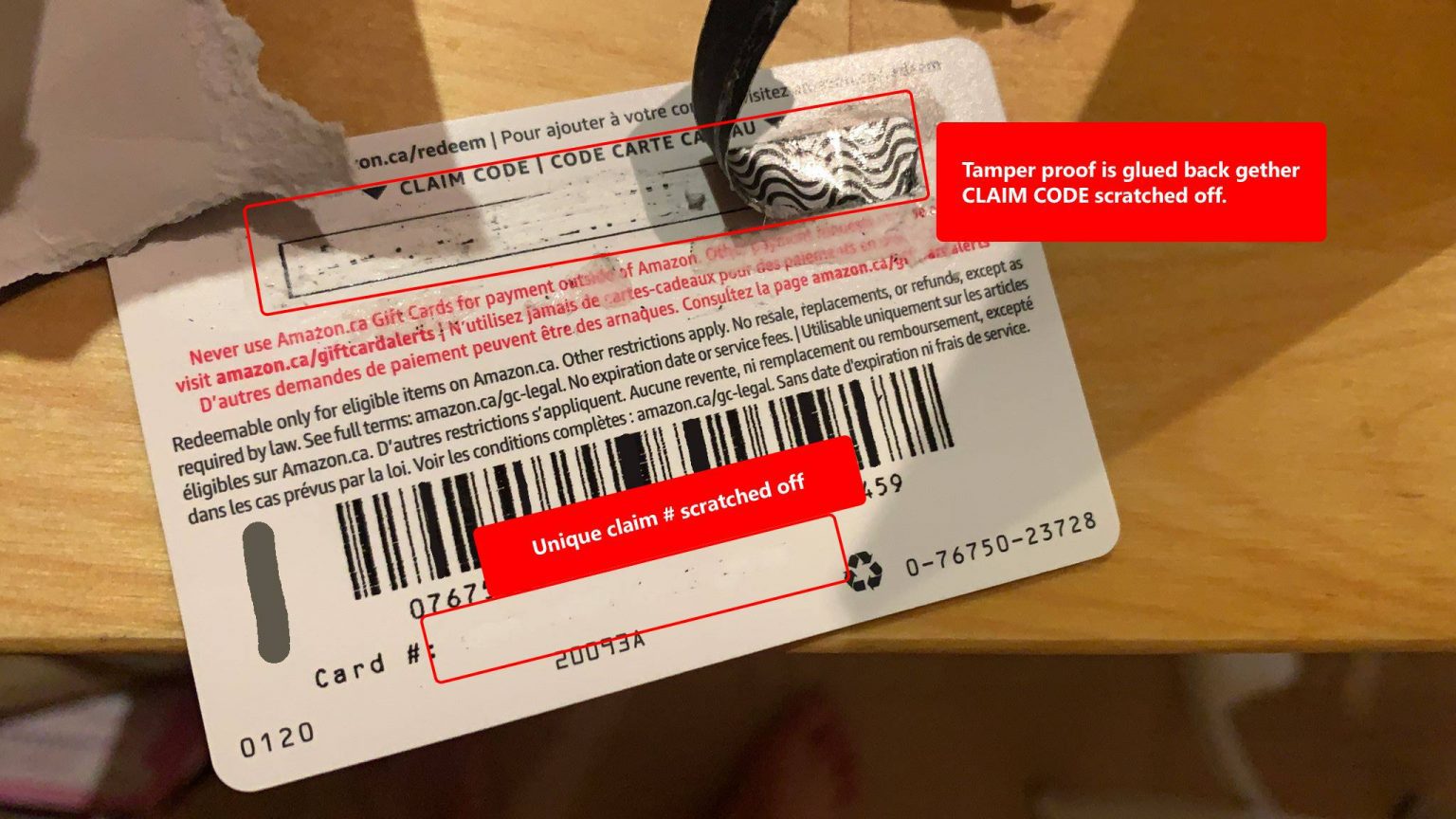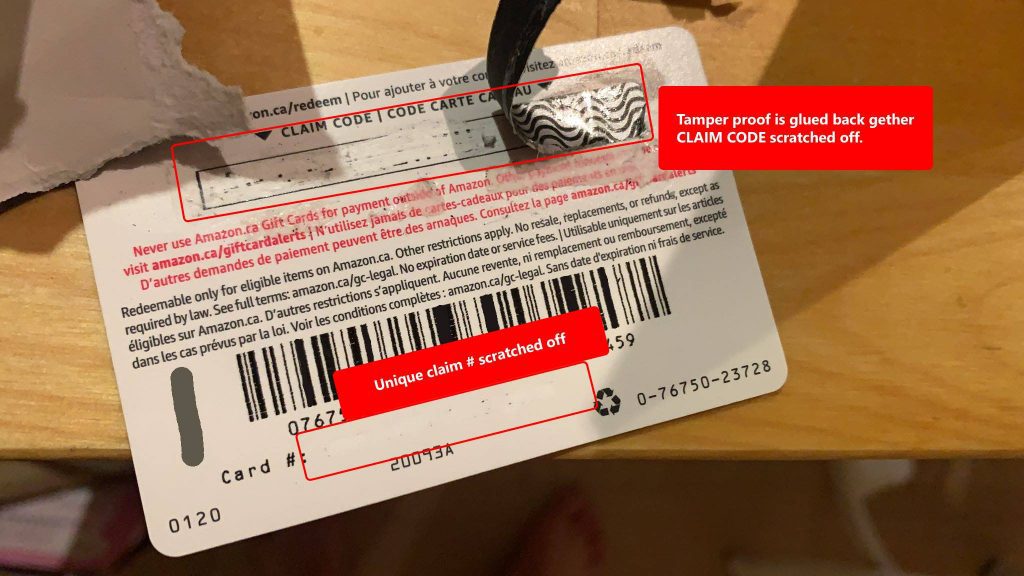 Amazon Gift Card Removal Instructions
Open a web browser on your Mac or PC and navigate to Amazon.com to sign in to your account.
To the right of the search box at the top of the screen, select "Account & Lists."
Select "Your Account" from the drop-down option.
Scroll down to the next screen and select "Payment choices" from the far-left column.
You'll be directed to a page that lists all the saved payment options you've used to make purchases on Amazon.
To access a drop-down menu, find the payment method you want to delete (in this case, a gift card), then click the downward pointing arrow next to it.
Conclusion
Amazon gift cards are unique assets that come in very handy. Knowing how to use your Amazon gift card, even when scratched off, is a huge plus. Has this article been of help? If you would like to learn more, do well to leave a comment, and we will be glad to help.