Many cryptocurrency wallets have the Binance Smart Chain network set up by default, so you can get a BEP-20 address without doing anything else.
Other wallets, like Metamask, require you to manually set up the Binance Smart Chain network in order to get a BEP-20 address.
Here is a step-by-step guide to finding wallet addresses for BEP-20 on Trust Wallet and Metamask. also If you are planning to invest in Bitcoin, be careful.
What Is Binance's BEP 20 Address?
The BEP20 address is the address of a smart contract on the Binance Chain. The BEP20 address represents a token standard that is on the Binance Smart Chain. BEP20 is similar to ERC20 and uses many of the same terms and technology, but it adds some new features. It also adds some features that are specific to Binance Chain.
The main difference between ERC20 and BEP20 is that ERC20 tokens can only be issued by Ethereum itself, whereas in BEP20, anyone can issue or trade them.
An address on the blockchain corresponds to the string of text provided to identify a certain location or person, much like an address in the physical world or a website.
More precisely, it is the block of text that identifies the position of a specific wallet on the blockchain, from which digital assets may be sent or received.
All blockchains contain wallet addresses in some shape or another, and the majority of them take the form of a lengthy line of text that is hard for a person to read but simple for a computer network to comprehend.
For instance, a bitcoin address could look like this:
1CKa7k7RtaV4TRRcnjciVndBS8hNG1G9ip
Additionally, an Ethereum network address can look like this:
0x77dce4813eC15650e57E1b999c197aad00bEc1c2
Since no personally identifying information is needed to create a new wallet address on the blockchain, the majority of bitcoin addresses on a network are largely anonymous.
They are not entirely anonymous, however, since some addresses are linked to individuals or organizations that are well known to the public.
How to Find a BEP20 Address On Metamask
Follow the steps below to find your BEP-20 wallet address on Metamask.
Step 1: Open Metamask and Sign in to your account.
To open Metamask, click on the extension icon on your browser. Once the extension is loaded, type in your account password and click [Unlock] to open the wallet.
Step 2: Click [Ethereum Mainnet].
Click on [Ethereum Mainnet] on the Metamask home screen to see a list of all the networks you can use with your Metamask Wallet.
Step 3: Click on "Add Network."
Click on "Add Network" to configure a new network in your wallet.
Step 4: Add the BSC Mainnet to your wallet.
To add the Binance Smart Chain to your wallet, go to the next page and fill in the information below.
Network Name — "Binance Smart Chain"
New RPC URL – "https://bsc-dataseed.binance.org/"
Chain ID – "56"
Symbol – "BNB"
Block Explorer URL – "https://bscscan.com"
Click on "Save" to add the network to your wallet.
Step 5: Select the Binance Smart Chain Network.
Make sure [Binance Smart Chain] is selected as the network on the Metamask, as shown in the image below. If it's not already chosen, click [Binance Smart Chain] to choose it.
Step Six: Click the icon with three dots in a row.
Next, click on the three vertical dots icon in the top right corner of the Metamask screen.
Step 7: Select "Account details" from the menu.
If you click [Account details], you can see information about your BEP-20 wallet.
Step 8: Copy the address of your BEP-20 wallet (Optional).
On the next page of Metamask, you should be able to see both your BEP-20 wallet address and a QR code that you can scan to get the wallet address.
Click the Copy icon next to the wallet address to copy it to the clipboard.
How Do I Get My Trust Wallet Address?
Using your Trust Wallet address, you may transfer and receive coins and buy bitcoin cash. Additionally, if you want to move your address from your cryptocurrency exchange to your Trust Wallet, you will need to know your wallet address.
You cannot conduct any transactions without it. Each cryptocurrency has a unique wallet address. Therefore, if you're unsure of how to locate your wallet address, use the methods below.
Start your device's Trust Wallet application.
Choose the cryptocurrency wallet for the currency you want to use for your transactions.
You'll be sent to a website with your wallet address, which you may copy and distribute, as well as a QR code for use in mobile commerce.
If you provide the recipient of the cryptocurrency with your address, they will be sent to the appropriate cryptocurrency wallet on Trust Wallet.
How to Find BEP20 on Trust Wallet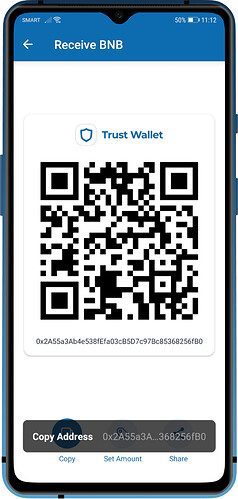 Open your wallet with the smart keychain.
You will see both the BEP20 address and the QR code.
Tap "Copy" to copy the address or the QR code so you can share it.
How to Find a Bep20 Address on Coinbase
Search for SONM on CoinMarketCap (BEP-20). Tap the "Market" button next to the price chart. This view shows a full list of places where you can buy SONM (BEP-20) and the currencies you can use to buy it.
How to create a BEP20 wallet
Link your Smart Chain account on Binance to Remix.
Choose the "ABCToken" contract and click "Compile."
Put your contract to work.
Change your contract's gas fee, and then confirm your deploy contract.
In MetaMask, on "Add Token"
Choose "Custom Token" and paste the address of the contract into the box.
How to Create a BSC Wallet
Start with downloading and installing Metamask
Use your favorite browser's search bar and type "MetaMask" into it. Then, make sure you go to metamask.io, which is the official MetaMask site.
Click the "Download" button in the top menu or the "Download now" button on the MetaMask homepage.
On the page that says "Download," you can choose between "Chrome," "iOS," and "Android." We'll focus on the "Chrome" option if you want to use your MetaMask wallet for development. So, make sure the "Chrome" option is selected and click the "Install MetaMask for Chrome" button.
Once you're taken to Google Chrome's web store, you need to click the "Add to Chrome" button.
Then, a pop-up window will appear and ask you to confirm. So, just click on the button that says "Add extension."
If you've done all of the steps above correctly, MetaMask should show you a welcome message. This also ends the process of installing the MetaMask extension. But you have to click on the "Get Started" button to make your new wallet.
Create a New Wallet with MetaMask
Click "Create a Wallet" on the right to get started:
To move on to the next step, you need to create and confirm your password. Make sure to either remember your password or write it down and keep it in a safe place.
As part of the process, the MetaMask guide may come with a video that shows how to do things. We think you should watch it. The next important step, though, has to do with the secret recovery phrase, which you need to keep safe. Click on "Click here to reveal secret words" to get started.
Once you know your secret words, you need to write them down in the right order and put them somewhere safe. The safest way is to write them down by hand on a piece of paper (make sure to double-check the spelling).
Then put that piece of paper away in a safe place. This is an important step, so do it right. Also, the order of the words is important. With your secret recovery phrase, you can use any other device to access your wallet or get back into your account if you need to. Once you've written down your secret words, click "Next."
You will have to put your phrases from the last step into the right order. Do this to finish making your wallet. At this point, your MetaMask wallet has been successfully made.
Create a BSC wallet manually.
Open your MetaMask extension, click on the "Account" icon, and then click on "Settings."
When you get to the page where you can change settings, choose "Networks."
Click the "Add Network" button to be able to manually enter BSC's information, which would go in the larger rectangle above.
Add the following information, then click "Save."
1. Details to add to BSC's mainnet:
Network Name: Smart Chain
New RPC URL: https://bsc-dataseed.binance.org/
Block Explorer URL: https://bscscan.com
2. Details to add BSC's testnet:
Network Name: Smart Chain – Testnet
New RPC URL: https://data-seed-prebsc-1-s1.binance.org:8545/
Block Explorer URL: https://testnet.bscscan.com
Is metamask BEP20 or BEP2?
MetaMask is a popular wallet extension for browsers that work with ERC20 (the Ethereum network) and BEP2 and BEP20 (Binance Chain and Binance Smart Chain networks).
Binance Bridge Trust Wallet
You'll need Binance Coin (BNB) to pay the transaction fees for Binance Smart Chain (BSC) DApps. You will have to pay some gas every time you use BSC to send tokens or interact with smart contracts.
1. You must send your BNB BEP-20 tokens through the BEP-20 transfer network in order to use them to pay for gas. If you want to get your money out of Binance, make sure to choose [BEP-20 (BSC)] on the withdrawals page.
2. Open the [Wallet] tab on Trust Wallet and click [Smart Chain] to deposit your BEP-20 BNB. Please don't click [BNB]. This option is only for BEP-2 BNB on Binance Chain, and it can't be used to pay transaction fees on BSC.
3. Click the button that says "Receive" to find your deposit address. Then, you can copy this address and paste it into your wallet or scan the QR code.