You can remove your card from Chegg in a variety of ways, one of which is to delete your account. You'll be able to withdraw the payment method, whether it's a credit card or another, once the account has been canceled. Alternatively, phone the customer service department.
You can delete your account to remove your card from Chegg because there is no direct way to do it. You'll be able to withdraw the payment method, whether it's a credit card or another, once the account has been canceled.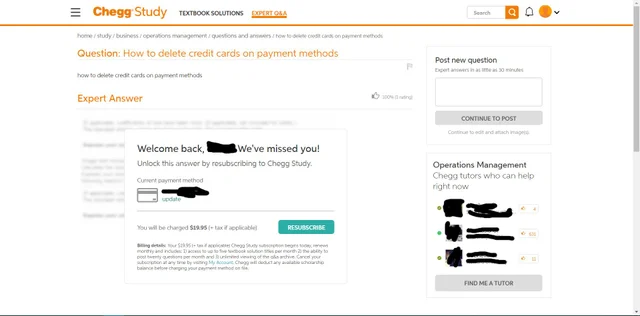 If you're just withdrawing the card and not changing any other payment information, you'll need to contact customer service or submit a ticket, and they'll walk you through the process. It is feasible to update payment information, but only with the assistance of customer support to remove it.
How to Add/Delete your Chegg.com payment method [Watch Video]
To see your current payment method, click the link below (s). If you haven't already done so, you'll need to sign in.
Click the down arrow next to Add a new card and input your details. Click Save Changes when you're finished
Change your current payment method, go to and click Edit next to the payment type you want to change. Click Save Changes after updating each field with your new payment details.
How to change a Chegg subscription's payment type on Chegg.com
To see your current payment method, click the link below (s). If you haven't already done so, you'll need to sign in.
Select the subscription you want to change the payment method for and click Edit.
If you want to use a different payment method that you currently have on file, click the down arrow and choose the card. Then, under the Payments tab, click Update.
To make changes to a payment method, go to Edit, make your adjustments, and then Save changes.
To add a new payment option, select New from the drop-down menu, enter your card information and save your changes.
How do I cancel my Chegg membership?
If you wish to cancel your Chegg study subscription, it's simple to do so. As previously stated, if you have a billing membership, you should terminate your Chegg subscription within a week.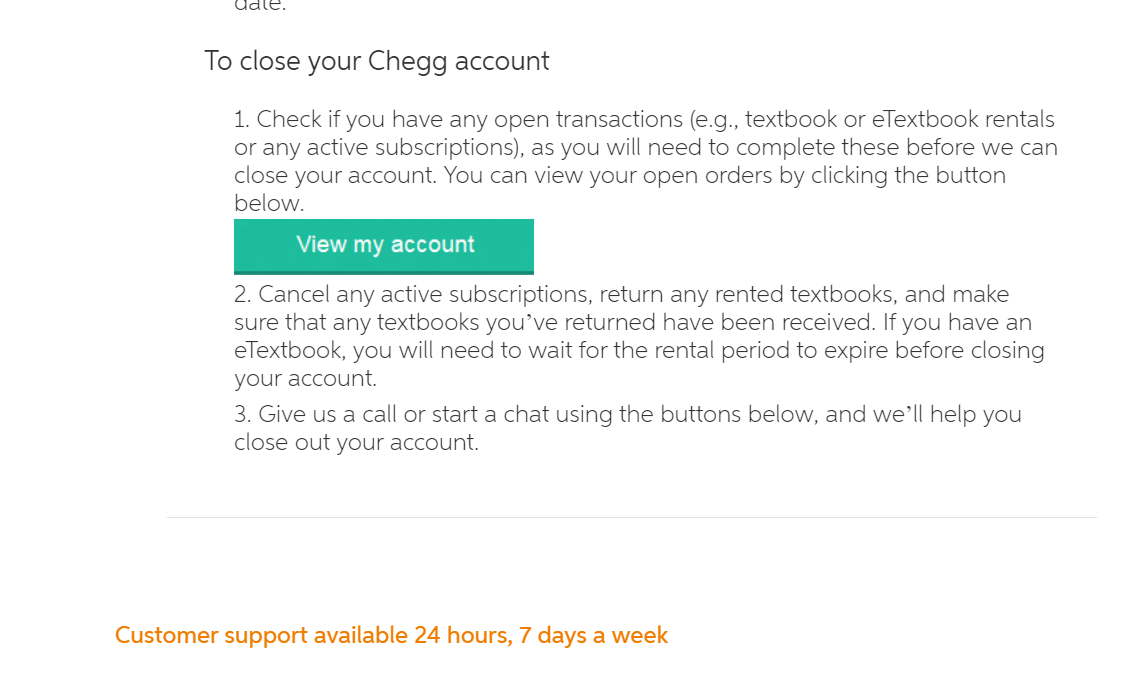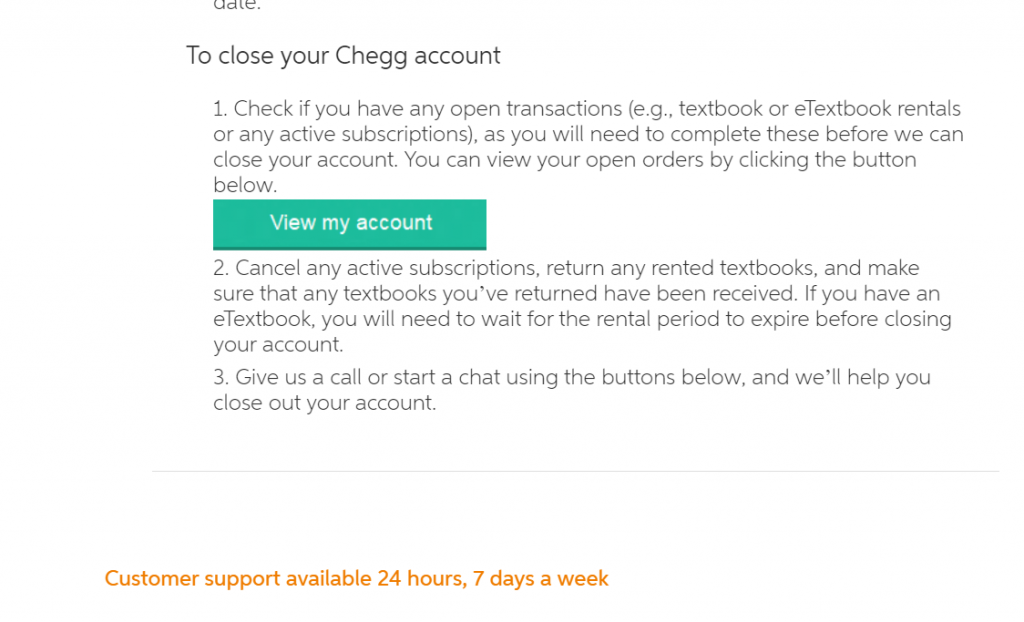 Otherwise, the subscription will be continued unless you cancel it, and you will be responsible for the expenses. So, how do you cancel your Chegg subscription?
To cancel your Chegg study subscription, follow the steps below:-
Go to my account after logging onto your Chegg account.
Select the Orders tab from the drop-down menu.
Finally, you'll have the choice to terminate your membership. So, select Cancel Subscription from the drop-down menu.
Next, you must choose the reason for discontinuing your Chegg subscription. So, it doesn't matter which option you choose from the available possibilities. Your Chegg subscription will be canceled if you choose to continue.
You may quickly cancel your Chegg account subscription by following the step-by-step instructions below. Let's take a look at some of the most often asked questions about deleting your Chegg account.
What is the procedure for deleting my Chegg student account?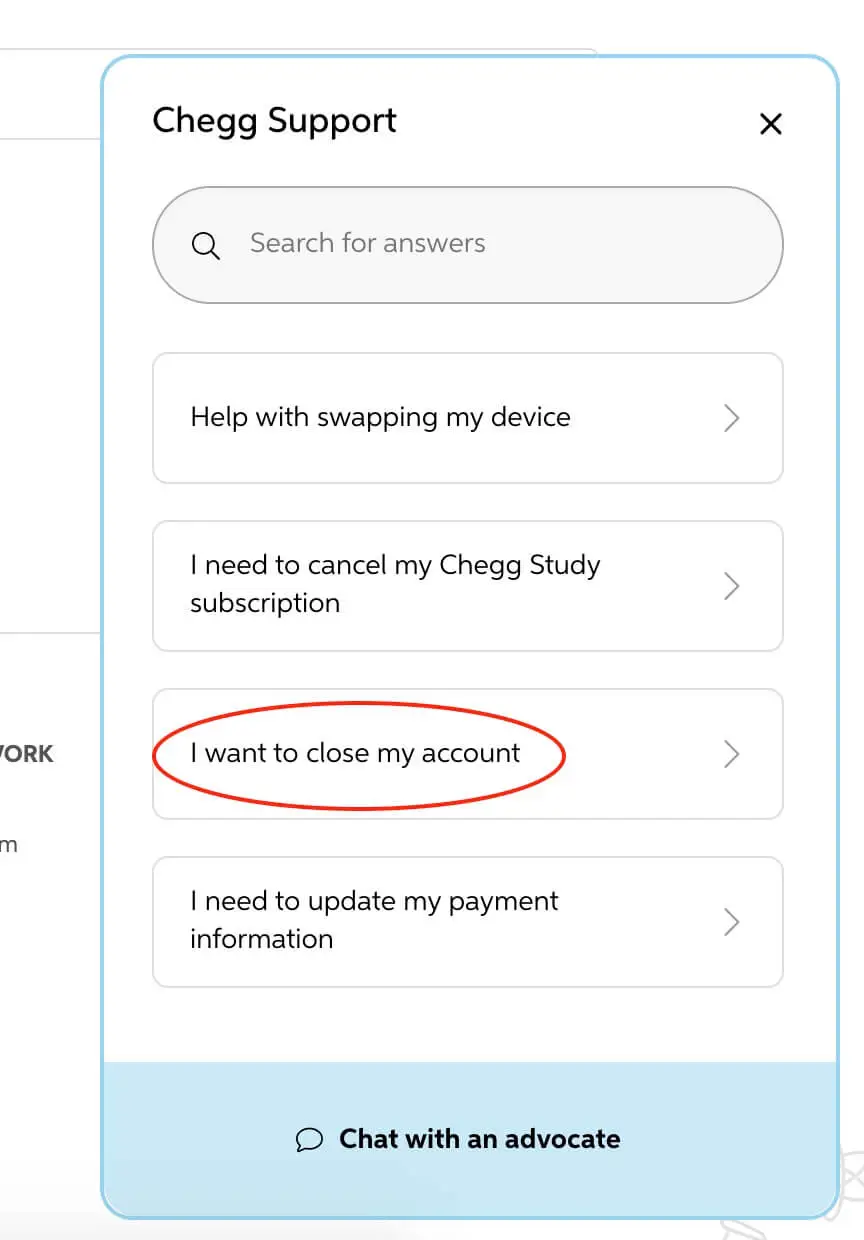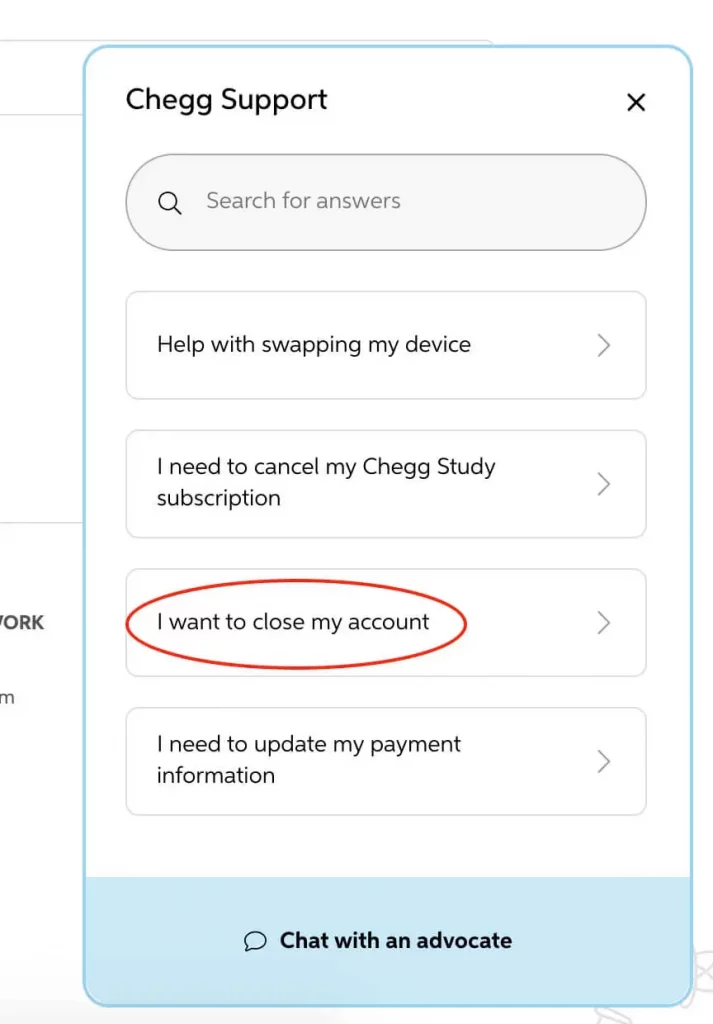 Whether you wish to delete your Chegg account as a student, parent, or tutor, you may do so using the same way. You'll need to use any of the approaches we've discussed in this post.
There are three methods for deactivating a Chegg account: filling out a form on the website, sending an email, or using live chat. So, if you use any of the techniques listed above, you will be able to erase your Chegg student's account.
Overview of Chegg
Chegg Inc., headquartered in Santa Clara, California, was formed in 2001. Chegg is derived from the terms "chicken" and "egg." The creators claim it has something to do with the old "chicken or the egg" dilemma they experienced when they graduated from college: they couldn't obtain a job without experience, but they couldn't get experience without a job.
CheggPost was the company's original name, however, it was renamed Chegg.com later on. It began as a platform for college students and new graduates to advertise shared housing openings, rent or sell textbooks, and more. It was one of the first of what has since become a slew of companies that allows students to sell textbooks online.
Keynote
Chegg was designed to be a textbook solutions company, offering rentals and used sales to college students wishing to save money on expensive books, when the founders noticed that the majority of the site's business was focused on textbooks.
Chegg bought InstaEdu, an online teaching startup, in 2014. They changed its name to Chegg Tutors and started providing online tutoring services to high school and college students.
Chegg Tutor Pricing
Chegg offers tutoring options that allow students to access tutors as needed. All that is required of the student to get started is a credit card. Students are only charged for the time spent in the interactive tutoring room, and they are allowed to study everything discussed before or after the class.
Alternative plans are also available from Chegg:
For $48 each week, you get 120 minutes, plus 40 cents every minute beyond that.
For $30 each month, you get 60 minutes and 50 cents for each additional minute.
240 minutes for $96 per month, plus 40 cents every minute after that.
A pay-per-minute option for a fixed rate of 75 cents per minute with no hidden fees
The most popular option is a weekly plan, which includes 30 minutes of one-on-one instruction for $15 each week, plus 50 cents per minute beyond that. When you sign up for a membership, you also get the first 30 minutes free.
What does deleting a Chegg account do?
You can continue to use your account for Chegg's free services after canceling your membership. Writing Tools and Flashcards, as well as the ability to order textbooks, are just a few of them. Furthermore, canceling your subscription allows you to reactivate it at any moment.
Your data will be removed from the Chegg site if you delete your information. If you decide to use Chegg services again, all of your information in MyAccount will be erased, and you will have to create a new account. To cancel a Chegg.com subscription, go to the active subscriptions page and click the button below. If you haven't already done so, you'll need to log in.
How long does it take Chegg to deactivate your account?
Because the exact time it takes to delete a Chegg account is not published anywhere on the official site of Chegg, nor has it been stated by Chegg. However, it could take anywhere from a week to a month. It depends on the technique of applying for the deleting of the Chegg account.
If you use the process of filling out a form and applying, it will take around a week. However, if you submit your request through email, it may take up to a month, which is not guaranteed; it might be completed in as little as one day, but we are quoting the maximum time.
When you submit a request via live chat, your Chegg account will be deactivated immediately if there is no problem. Right now you should know how long it takes for Chegg to remove your account.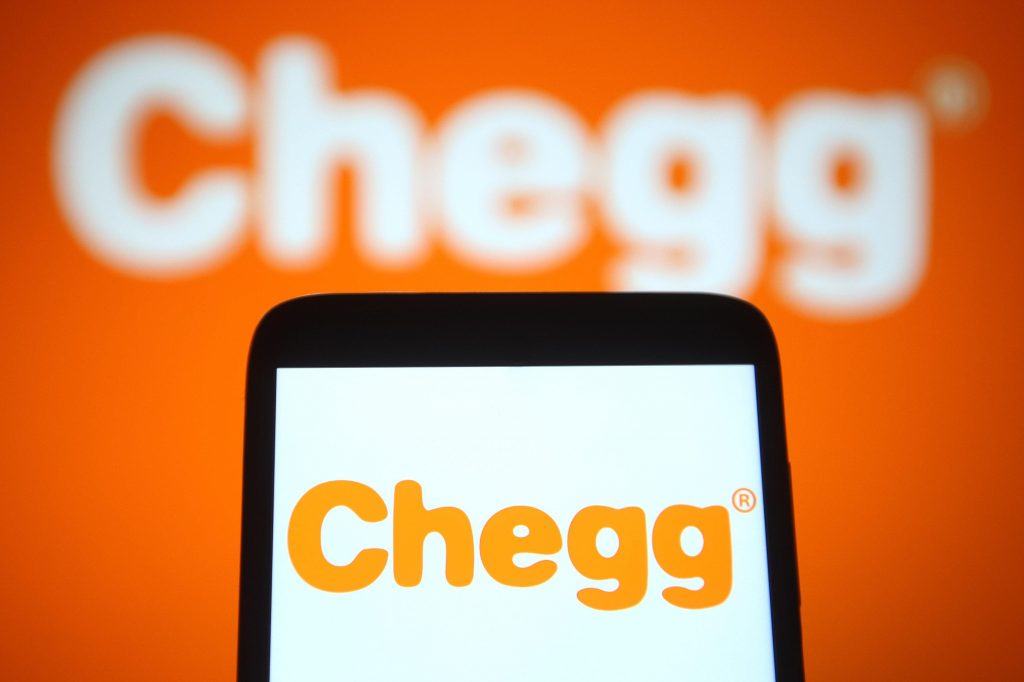 What is the difference between canceling your account and signing up for a Chegg subscription?
Once you delete your Chegg account, all of your personal information is permanently deleted, and the user is unable to restart their account. However, if you cancel your Chegg subscription, you will be able to use some of the services, such as ordering books, writing tools, and flashcards, without having to pay any fees.
You are aware that to subscribe to Chegg, you must provide credit card information. If you want to delete your Chegg account, you must cancel your membership within a week of the due date.
Because removing your Chegg account takes a few days, and if you do not cancel, the subscription price will be taken from your credit card. If you don't know how to cancel a Chegg subscription, you can find out by reading the rest of this article. To delete your Chegg account, please remove your subscription pack.
What Does a Chegg Tutor Get Paid?
For time spent in a session or time spent composing a student's lesson explanation, Chegg instructors are all paid $20 per hour. This charge is calculated based on the precise minute amount of time you spend working with students (hours are not rounded up).
Although students can pay as they go and check-in for as little as a two-minute session, Chegg mandates a five-minute minimum class time. You will still be paid for five minutes if you answer a student's fast question in a minute and they sign off. While $20 per hour isn't awful, the need for instructors is the main issue with Chegg tuition.
Because students prefer tutoring in chunks in the afternoons and evenings, it's difficult to optimize revenues consistently during an eight-hour day, for example. Tutors should approach this as a fantastic second career rather than relying on it as full-time employment because of the cyclical demand.
For many new graduates or individuals who enjoy working in education and prefer working from home at an entry-level job, becoming a Chegg tutor can be a great part-time career.
How to delete Chegg Account?
To begin, double-check if you want to cancel your subscription or close your Chegg account. Consider that canceling or deleting your Chegg Account also deletes your customer profile and prevents you from using Chegg services in the future.
You must cancel all active subscriptions before you may delete your Chegg account. Your Chegg account cannot be deleted as long as any of your subscriptions are current.
You can remove your Chegg account using one of the options listed below.
1. How do I remove my Chegg account on the Chegg website
Complete the steps outlined below to remove your Chegg account via the Chegg website. Use your username and password to access the official Chegg website. Follow the instructions above to close any pending transactions or active subscriptions that you may have.
Go to Chegg -> My Account and sign in.
As indicated in the figure below, go to the right-hand corner of the page and click the 'Chat Icon' / 'Contact Us' button.
To close your account, select 'I want to close my Account.'
If you have any pending subscriptions, cancel them by clicking on 'CANCEL MY SUBSCRIPTION,' otherwise, click on 'Chat with an advocate,' which will take you to the next step.
Respond to the applicable question and indicate that you want to remove your Chegg account.
2. How to Delete a Chegg Account via Email
Log in to your Chegg-provided email account. Keep in mind that you can send an email from any of your accounts. Include your Chegg account information in the email.
You must write an email to [email protected] and address it to him.
"REQUEST FOR CHEGG ACCOUNT DELETION" should suffice as the subject.
Explain why you want to delete your account in the email's body area and ask for it to be removed. Below is a template that you can use as a guide.
3. How do I use live chat to Delete my Chegg account?
There's also a way to request that your Chegg account be deleted, and it's the quickest process out of all of them.
In this technique, all you have to do is a message any member of the Chegg team in the live chat, and your account will be terminated as soon as someone joins the conversation.
In this case, you'll need to take some of the same processes as we've described on the website using form approaches. So, let's take a look at how it works.
To learn how to remove a Chegg account quickly using live chat, follow the steps below:-
Log in to your Chegg account and select the profile option to access my account.
To contact someone, go to the communication tab and then to the contact option.
Go to the option to chat with an advocate.
Eventually, you will receive an automated response, but subsequently, through the use of the live chat, you will be linked to a Chegg representative.
So, just say in the conversation that you'd like to deactivate your Chegg account, and your account will be deleted right away. In this case, you must connect via live chat and request that the account is deleted.
Conclusion
From what we have covered in this article, I'm hoping you've figured out how to delete your Chegg account. We've done our best to break down the solution into simple stages for you.
In this article, we've covered the three alternative methods for deleting your Chegg account. In addition, we have supplied step-by-step instructions and screenshots for each procedure. If you have any questions about Chegg, please leave a comment below and we will respond as soon as possible.