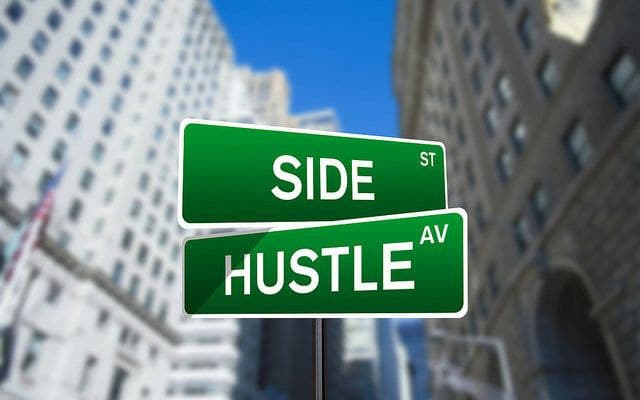 Are there side gigs that can make you richer? The internet is filled with numerous money-making opportunities. With so many self-made internet millionaires in this age, it comes as no surprise many people search for profitable side gigs. Today, we will be looking at some fantastic side gigs that can make you richer. 
When you know what to look for, making additional money on the side can be simple. Finding one of the most significant side jobs out there is a terrific approach to attain your goal, whether you want to pay off student loan debt, start saving for a big-ticket buy, or establish a fund for the future.
Some side gigs that can make you richer:
Freelance writing become a virtual assistant
Try out affiliate marketing
Become a task rabbit
Perform Market research
Work as an online instructor
Become a fashion consultant
Become an accountant
Work as a social media specialist, etc. 
Yes, some full-time jobs are great, but you are robbed of most of your time and, in many cases, stressed out of your mind. Often, side gigs that can make you richer are the best "better option" to consider. Many side gigs can make you richer than a full-time job; let's take a more in-depth look at them.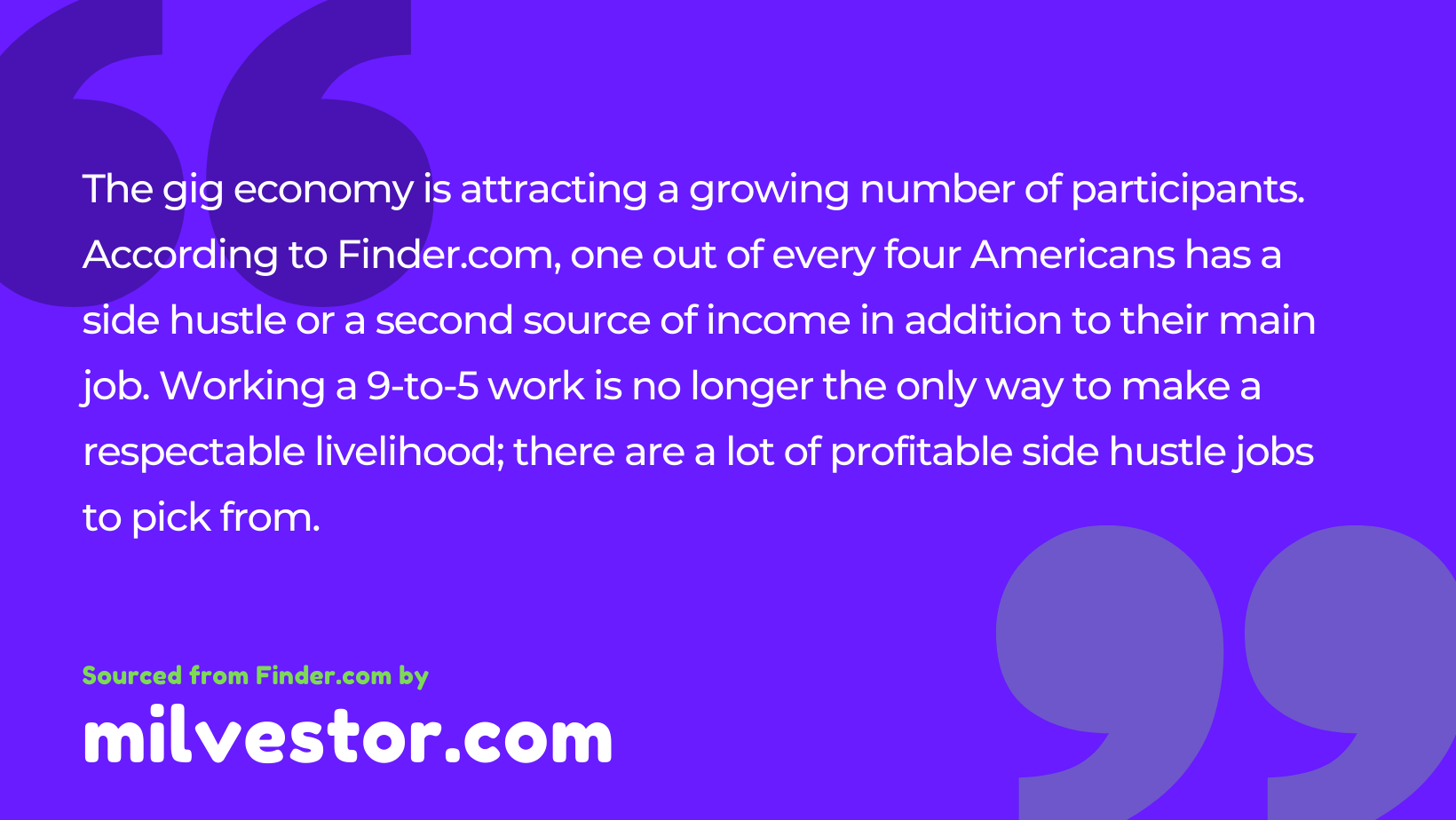 Recommended: How to Build Wealth | Complete Guide To Building Sustainable Wealth [2021]
What is a Side Gig?
Work that you do on the side of your primary employment is known as a side hustle. Some people only do one side job at a time, while others do several. Similarly, some people pursue their side hustle all year, while others do so only during certain seasons. 
While side hustles and part-time occupations are commonly conflated, the two terms have slightly different meanings in most circumstances.
Both involve making extra money, but aside from gig, it has a more entrepreneurial spirit compared to most second employment. In addition, side gigs frequently offer additional scheduling flexibility.
Many side gigs pay so well that you might contemplate quitting your full-time work to devote more time to them. 
It truly is a funny dilemma. 
"According to intuit, in 2017, "gig" freelancers made up about 34% of the workforce, and that number is expected to skyrocket to 43% by 2022."
Source: I like to dabble
If you perform these projects regularly, you can make a decent living while also controlling your life. So, without any further delay, let's go into detail on side gigs that can make you richer. 
Why start a side hustle?
According to the report, money is crucial for many people (income diversity or passive income), but it's not the only one. People may also choose to do a second gig for fun. 
"In the United Kingdom, 60% of students and graduates said they had part-time work, and 43% said they needed it to pay their rent."
Source: World Scholarship Forum
According to the study, over half of Americans who have a side hustle want to start one for the potential of passive income, while parents, oddly enough, are inspired to start a side hustle for non-financial reasons. Starting a side hustle can help you solve problems, but it can also cause new ones.
How do beginners make money on the side?
As a beginner to the concept of making money on the side, many side gigs can make you richer. 
Take advantage of the opportunities already available to you if you want to learn how to make money on the side. Unfortunately, the majority of people dive in without knowing what they're doing. 
If you know how to do it correctly, making money from home can be a great idea. Consider the benefits of having a consistent income stream from an online business, as well as the limitless opportunities it can provide. Isn't it worth putting some effort into it?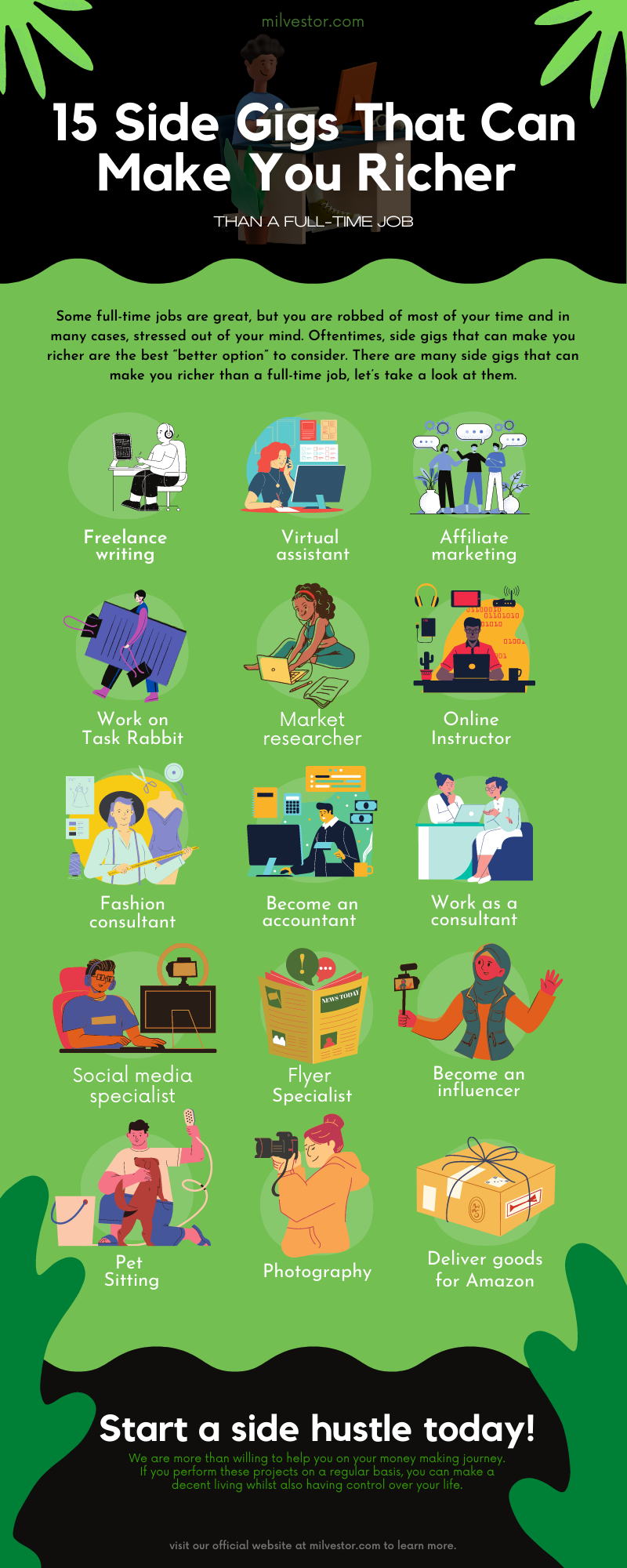 List of side gigs that can make you richer
Listed
1. Freelance writing
First on our list of side gigs that can make you richer is freelance writing. 
You may make money on the internet in various ways, but freelance writing is one of the most efficient. 
A freelance writer might be anyone with a knack for words. It helps if you have an excellent command of grammar and a thorough understanding of a subject. Niche market experts will make the most money.
This is an excellent option because the material is always in demand, and you can work from home. People who desire to generate money on the internet can also write articles or blogs.
Are you a natural writer? You could use your skill and research abilities to develop excellent websites. People with a talent for short social media postings can also sell their services to businesses trying to expand their reach.
2. Virtual assistant
Consider working as a virtual assistant for someone who needs help remaining organized. 
Virtual assistants help with everything from scheduling business meetings and sending errand reminders to keeping track of schedules and sending errand reminders. 
Working as a virtual assistant for a high-end company pays between $50 and $100 per hour. If you don't mind working around other people's schedules, this could be a great side income.
The amount you earn will vary depending on how many hours you work and how difficult the jobs are, but you can expect to earn between $15 and $25 per hour.
3. Affiliate marketing
Affiliate marketing is one of the most popular ways to generate money online since anyone can do it with a significant audience. Affiliate marketing entails talking about a product in a blog, podcast, or vlog, then directing your audience to purchase a specific web link. You'll get a modest commission for every purchase made through your affiliate link.
4. Task Rabbit
On this platform, you have to choose a task and leave the rest to them. Next, the website will display hourly rates for different jobs. After that, you'll be able to set your price. Become a TaskRabbit and earn money by running errands and performing tasks for people in your neighborhood. All it takes is a trip to TaskRabbit.com, where you can choose which jobs you want to take on. After you've been matched with people who need your help, you can start working and getting paid.
Recommended: 20 Get paid to text opportunities online | Top Reliable platforms [2021]
5. Market researcher
Market research may be right up your alley if you've ever fantasized about getting paid to criticize products. Many businesses are willing to pay a lot of money to get honest feedback from potential customers in real life. This could mean spending a half-hour writing a product review or a couple of hours completing surveys.
6. Online instructor 
Because most of your clients will be children, this job is ideal for someone who enjoys working with children. Many kids require extra private tutoring to ensure their homeschooling does not result in an educational disaster, especially in today's reality and post-coronavirus crisis, when people are hesitant to go social. It all depends on your level of expertise. You'll be able to set your hours and charge anywhere from $20 to $100 per hour for basic tutoring.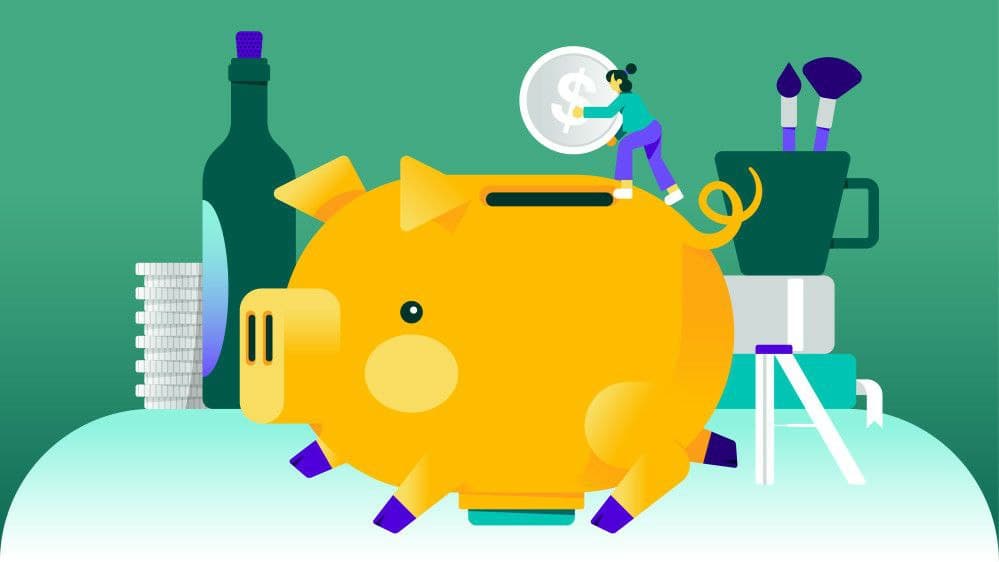 7. Work as a fashion consultant
"According to The Art Career Project, smart stylists can earn anywhere from $50 to $500 per hour."
This will be a good pick if you are looking for side gigs that can make you richer. As a fashion enthusiast with an eye for current trends, side work as fashion consultants for high-end consumers may be available. Some clients are willing to pay for fashion advice, even having their shoppers pick entire outfits for different seasons. As a fashion consultant, you'll meet with customers to learn about their likes, dislikes, personalities, and style goals. 
8. Become an accountant (senior accountant preferably)
This is another fantastic side gig that can make you richer than a full-time job. As a senior accountant, you'll be in charge of reporting expenses, productivity, margins, and expenditures for corporations and organizations. However, as junior accountants are, you are no longer required to perform administrative tasks such as data collection, balance sheet populating, or journal entry updating.
9. Become a social media specialist
Your job is to create campaigns, develop strategies, and write social media content. Social media has become an innovative tool for businesses and brands, and these companies rely on marketing experts to ensure that their social media campaigns are successful.
10. Work as a consultant
Consultant gigs allow you to turn your area of expertise into extra cash. An organization hires these professionals to review its processes and offer advice on how to improve its performance. IT is a particularly lucrative field for consultants, according to FlexJobs.
11. Become an influencer
Earn money by posting on social media. It turns out that social media can be pretty helpful. You might consider becoming an influencer if you have a large following on social media platforms like Facebook and Instagram or even if you have a blog. You can become a go-to resource for businesses to get more even exposure on the internet, whether for fashion, cookware, or home décor. 
Recommended: Step By Step Strategy on How to Find Penny Stocks Before They Explode [2021]
12. Flyer Specialist
Frequent flyer specialist is a great side hustle for those who travel frequently and know how to maximize frequent flyer miles to get the best deals. If this describes you, consider volunteering to assist other travelers with their travel plans.
13. Pet Sitting
Do you have a soft spot for animals? How about taking a dog for a walk or boarding a cat for the weekend to earn some extra cash? You can use social media to promote your pet-sitting business, put up signs around your neighborhood, or use a website like Rover. They allow you to set your schedule and set your fees. If you use Rover, keep in mind that they take a percentage of your earnings.
14. Photography
Snapping a few photos with a friendly camera and a good eye could be just the thing you need to figure out how to make some extra cash. On weekends, perhaps you only photograph family sessions and birthday cake smashes. Maybe you'll start a wedding photography business.
15. Deliver goods for Amazon 
Last but not least, on our list of side gigs that can make you richer is this option. Nothing beats having a package delivered to your front door, especially when it's from Amazon. So what do you need to begin? To start, sign up for Amazon Flex and start delivering packages. You can also set your schedule for the amount of work you can handle.