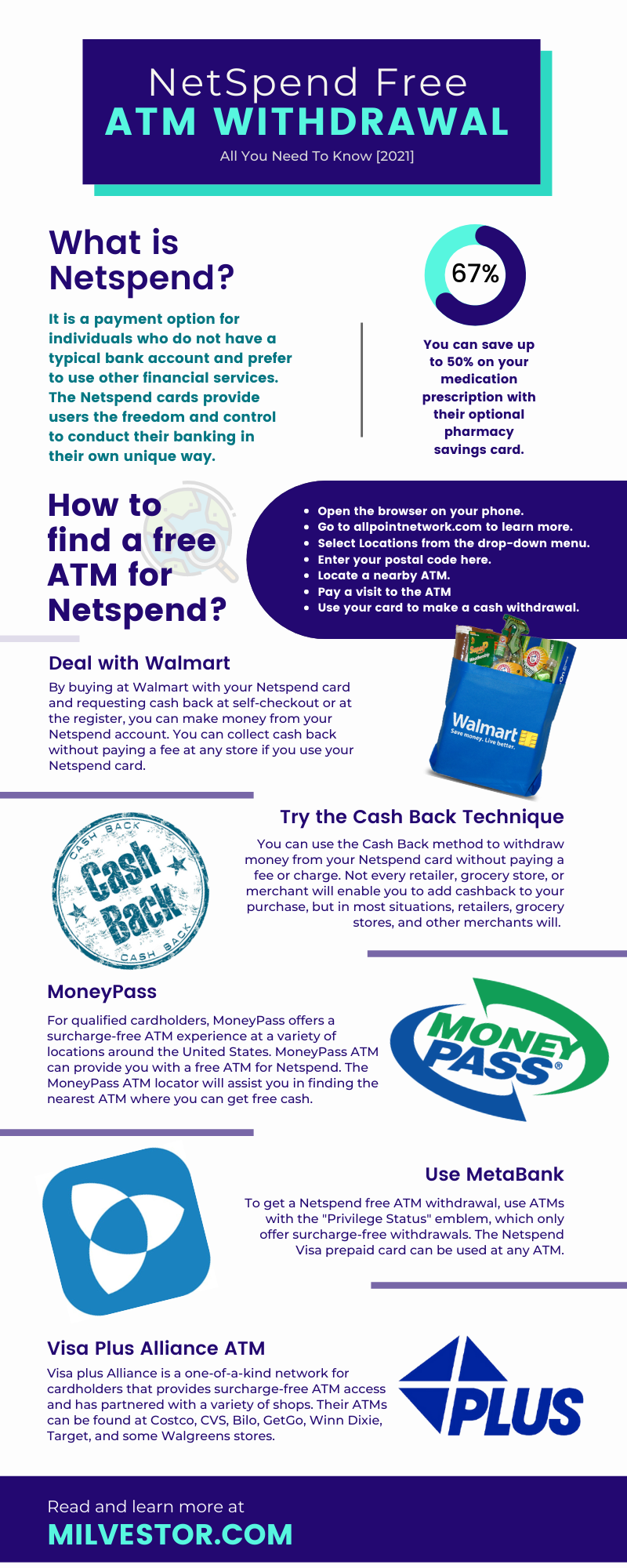 In this article, we will be showing you how to take advantage of Netspend free ATM withdrawal. Cards are convenient for everyday transactions and are pretty easy to use. Carrying cards is far safer than carrying cash, and consumers might feel secure when they use a card.
How to find a free ATM for Netspend?
Open the browser on your phone.
Go to allpointnetwork.com to learn more.
Select Locations from the drop-down menu.
Enter your postal code here.
Locate a nearby ATM.
Pay a visit to the ATM
Use your card to make a cash withdrawal.
Netspend ATM withdrawal Fee .
Regardless of the plan, you're on, Netspend may charge you a fee of $2.50 for an ATM withdrawal.
Due to the collaboration between Allpoint (America's most extensive surcharge-free ATM network) and NetSpend Corporation. It is available to prepay All-Access MasterCard cardholders. 
Where to make a Netspend free ATM withdrawal
Big or small, we carry out a lot of transactions every day. So saving money on transactions is never a bad idea. So it's natural to consider that looking for a charge-free money withdrawal is a good idea.
However, most debit and credit cards impose a transaction fee every time you make a purchase. In addition, in the worst-case situation, certain debit card providers will charge a withdrawal fee in addition to the ATM fee.
Even if you withdraw cash from your Netspend card, some ATM operators charge transaction fees. So if you are a budget-conscious individual, you may be wondering how to save money.
1. Deal with Walmart
Our first option for Netspend free ATM withdrawal is by dealing with Walmart. By buying at Walmart with your Netspend card and requesting cash back at self-checkout or the register, you can make money from your Netspend account. You can collect some money back without paying a fee at any store if you use your Netspend card.
To prevent having to pay an ATM fee:
To purchase an item, go to Walmart Shop.
Proceed to the counter.
Examine the item.
Put your Netspend card in the slot.
Select the Debit Card option.
Enter the PIN for the card.
If you want to get your money back, select yes.
Select a dollar amount.
Take the money.
Remove your card from the game.
With the pay-as-you-go plan, debit purchases will cost you between $1 and $2 per transaction. This fee, however, will not apply if you are on a monthly plan. In addition, Walmart will give you up to $100 in cash back at the register and $60 at the self-checkout.
2. Try the Cash Back Technique
You can use the Cash Back method to withdraw money from your Netspend card without paying a fee or charge. Not every retailer, grocery store, or merchant will enable you to add cashback to your purchase, but in most situations, retailers, grocery stores, and other merchants will.
Not only will you receive cash, but there will be no ATM fee added to your transaction. Stores will set a restriction on how much you can withdraw, so find out what such limits are at the places you frequent for transactions. You can plan ahead of time and ensure that you have cash on hand when you need it this way.
What to do
Several merchants (CVS, Walmart) use point-of-sale terminals that inquire whether you want cash back when you need money. Yes, and enter the required amount. At any given time, you can only withdraw a certain amount. Cashback locations may be found using the Mastercard cashback locator service.
3. MoneyPass
When it all comes down to pick a convenient method for Netspend free ATM withdrawal, this is an excellent choice. For qualified cardholders, MoneyPass offers a surcharge-free ATM experience at various locations around the United States. MoneyPass ATM can provide you with a free ATM for Netspend. The MoneyPass ATM locator will assist you in finding the nearest ATM where you can get free cash.
4. Use MetaBank
To get a Netspend free ATM withdrawal, use ATMs with the "Privilege Status" emblem, only offering surcharge-free retreats. The Netspend Visa prepaid card can be used at any ATM.
5. Visa Plus Alliance ATM
Visa plus Alliance is a one-of-a-kind network for cardholders that provides surcharge-free ATM access and has partnered with various shops. Their ATMs can be found at Costco, CVS, Bilo, GetGo, Winn Dixie, Target, and Walgreens stores.
Before we go into full details about Netspend free ATM withdrawal, let's find out more about them.
Netspend, a distributor of prepaid debit cards, was founded in 1999. A payment option for individuals who do not have a typical bank account and prefer to use other financial services.
Netspend allows you to transfer funds from your account to another account's holds card. The Netspend card features debit, credit, and ATM withdrawal capabilities. The Netspend Visa prepaid card and Netspend prepaid Mastercard provide users the freedom and control to conduct their banking in their unique way.
Netspend allows college students and parents, in particular, to keep a budget based on precise amounts of money rather than relying on a standard credit card. In addition, Netspend enables consumers to load cash onto their debit cards, link bank accounts for transfers, or sign up for direct payments for their paychecks, among other services.
So, now that we've covered a bit of Netspend let's talk about where and how you can make a Netspend free ATM withdrawal.
How Does a Netspend Debit Card Work?
A Netspend debit card, also known as a GPR, is similar to a debit card in that monies are pre-loaded onto the card at the moment of purchase rather than being deducted from a bank checking account. Like a credit card, the user is frequently charged a monthly fee on the card balance. The Netspend recharge pack is used to replenish the card's balance.
Can I add money to my Netspend card?
Yes, you can add money to your card. However, before taking advantage of Netspend free ATM withdrawal, you need cash on the card. Follow these simple steps to get your account funded.
data-preserver-spaces="true">Direct deposit is a free and convenient way to deposit your paycheck into your Netspend card.
You can load or add money to your Netspend card at the nearest Netspend reload site.
You can top up your Netspend card with money from your bank account or debit card.
To add money to your Netspend card, use the PayPal service.
Make a direct payment of your tax refund to your Netspend card account.
How do I get a NetSpend card?
To use our outlined Netspend free ATM withdrawal methods, you need to secure a card from a reliable source.
Do you want to purchase a Netspend Card? First, go to Netspend.com and look at the list of retailers there. Then, by inputting a zipcode or a city and state, you can find a participating area.
Netspend cards can be purchased from a wide range of outlets. In addition, Netspend offers relationships with several national retailers, including Walmart, Walgreens, Office Depot, 7-Eleven, and CVS Pharmacy, where you can purchase a Netspend card.
To comply with Netspend requirements, the vendor requires your name, address, date of birth, driver's license, or another form of identification before purchase.
Where can I take out money from my Netspend card?
You may use your Netspend card to make purchases in stores, over the phone, and online. You can also withdraw cash from any ATM using the Netspend visa debit card or debit Mastercard.
How much money can I withdraw from Netspend?
When you withdraw money from a Netspend network site or a financial institution or ATM, the maximum withdrawal limit is $5000, set by the ATM's owner.
What is a reload pack?
A single usage of a reload pack is allowed. After that, another group must be purchased, or money must be deposited via direct deposit or income to add more funds to a prepaid card. If funds are not loaded onto the prepaid card within a specified number of days, the user of a reload pack may be charged a fee. The average cost of a reload pack is between $2 and $3.95.
Netspend free ATM withdrawal: Wrapping Up
Netspend cards can be used anywhere. However, if you want to save money and hunt for a free provider to withdraw money from, you can select one of the following alternatives and withdraw cash from one near you. So, now you can withdraw money from your Netspend card for free. We hope that you can quickly complete a Netspend free ATM withdrawal anytime you want with this guide.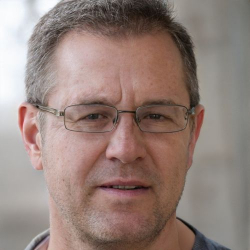 Latest posts by Fred Wolf
(see all)